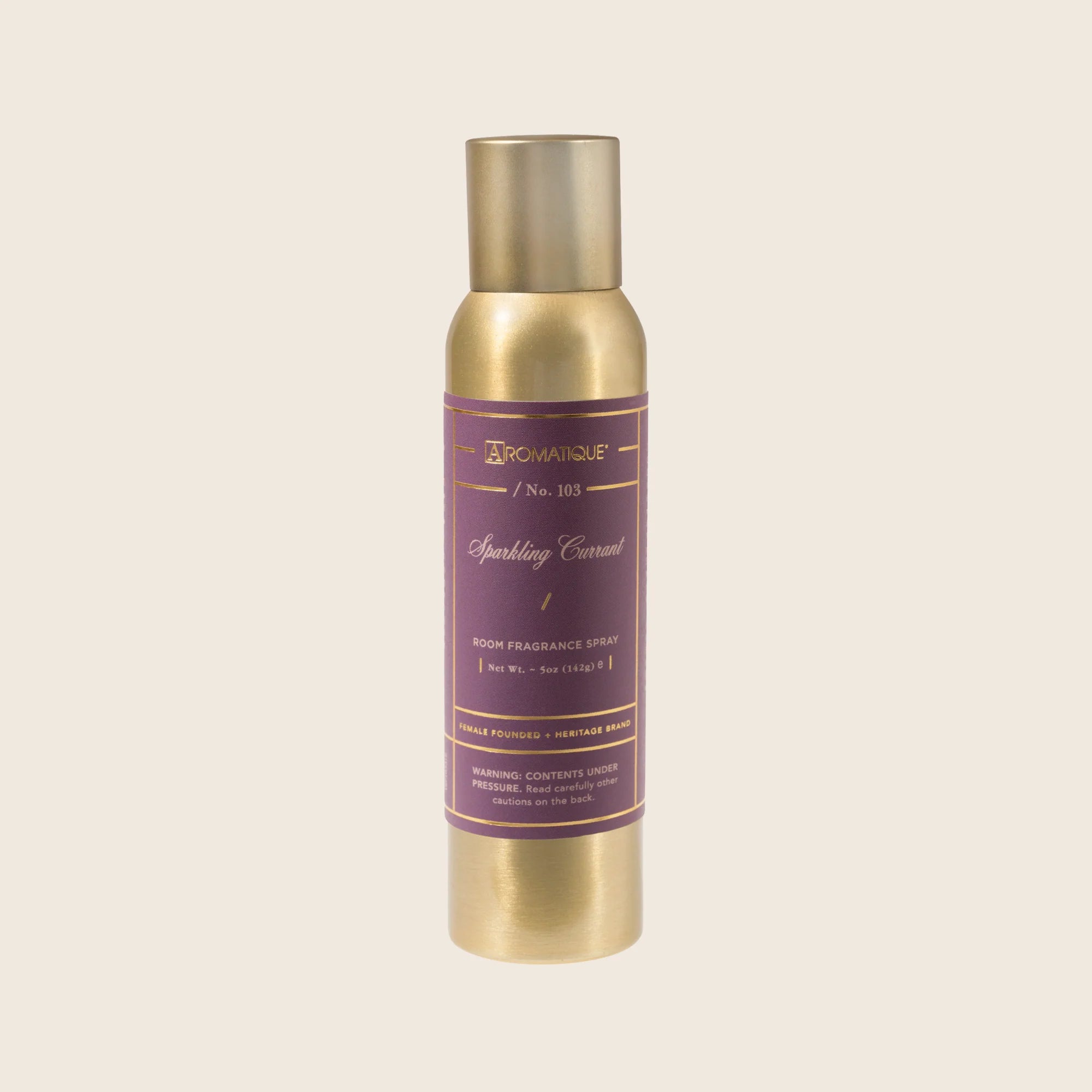 Aromatique Room Spray 5oz
Directions: Shake gently. Spray into the air.

Details: Use time depends on frequency of use; shelf-life one year; 5 oz; 1.8"D x 7"H 
Viola Driftwood: A calm, watery fragrance of violet leaves paired with cedar, vetiver and infused citrus
Smell of Winter: The cheery fragrance of sheer blackberries and vibrant vanilla orchid infused with citrus fruits, wood notes, and crystal spun sugar
Bourbon Bergamot: Bold citrus softened with cashmere musk and hints of bourbon
Smell of Tree: The fragrance of freshly cut wild evergreen
Orange Evergreen: A delightful holiday scent of fragrant citrus fruits with a touch of evergreen, cardamom, and florals
Sorbet: Notes of lemon and lime entwined with peach, melon and rose
Pumpkin Spice: Spiced candied pumpkin accented with ribbons of vanilla, maple, and cherry
Gingerbread Brulee: Delectable notes of sweet vanilla and marshmallow layered with spicy ginger, cinnamon, and clove
Cinnamon Cider: An exquisite blend of cinnamon and spices mixed with apples and a touch of citrus
Smell of Spring: Floral fragrances of hyacinth, jasmine, and rose, touched lightly with lily of the valley.
Fresh Hydrangea: Beautiful floral fragrance of freshly cut grass and green hyacinth combined with exotic notes of bergamot and china lily.
Pomelo Pomegranate: Refreshing citrus fragrance of pomelo and pomegranate musk infused with a hint of clementine blossoms.
In The Garden: Zesty notes of lemon and yuzu with the earthy aroma of freshly picked herbs and a touch of ginger.
Sparkling Currant- celebrate your space with bright ones of red currant & rhubarb embellished with floral touches of jasmine, rose, and Chamomile
White Amaryllis & Rosemary- Fragrant Herbs and Ginger topped with white, all embraced by notes of earthy oakmoss
Aromatique Room Spray 5oz