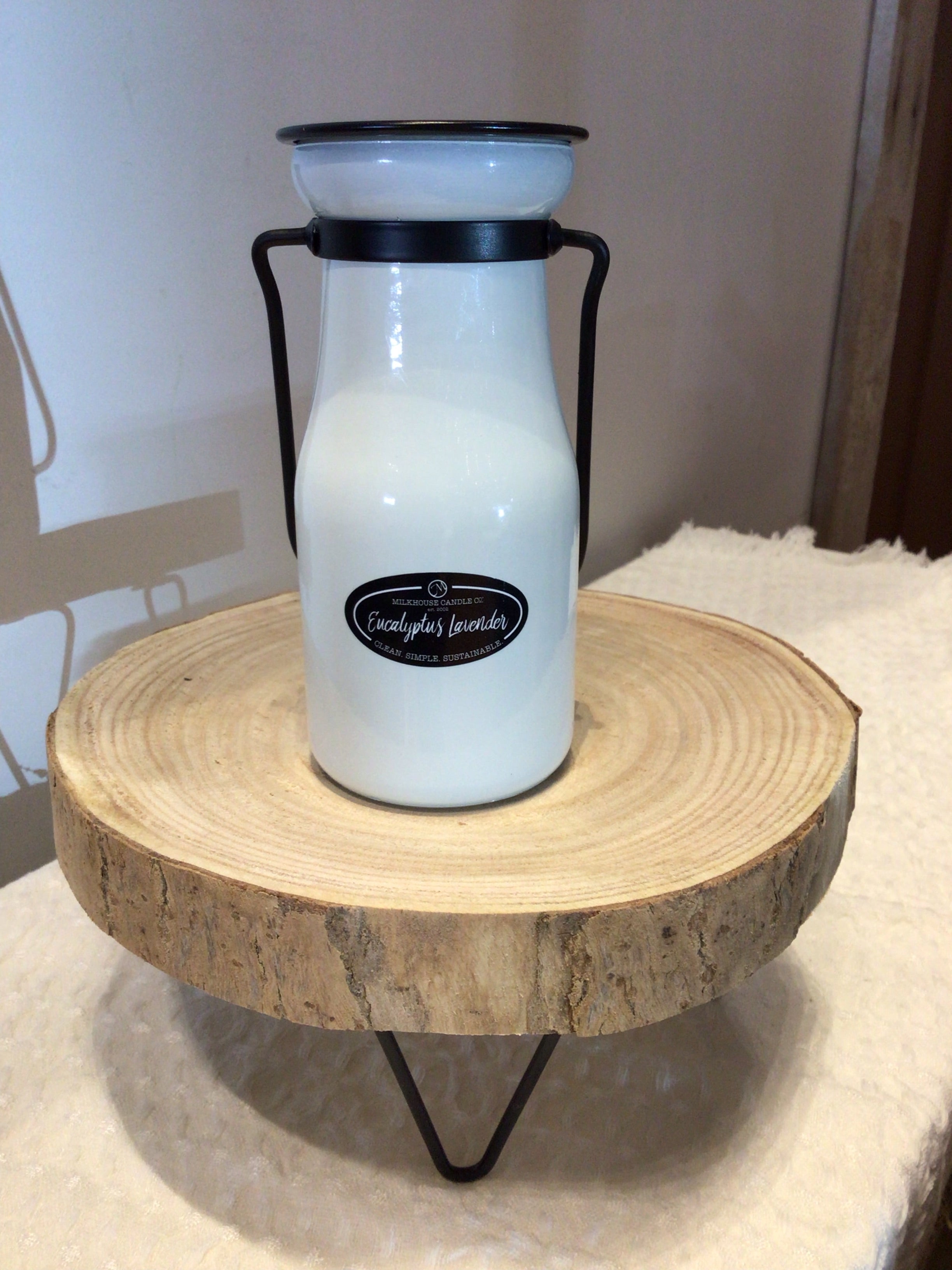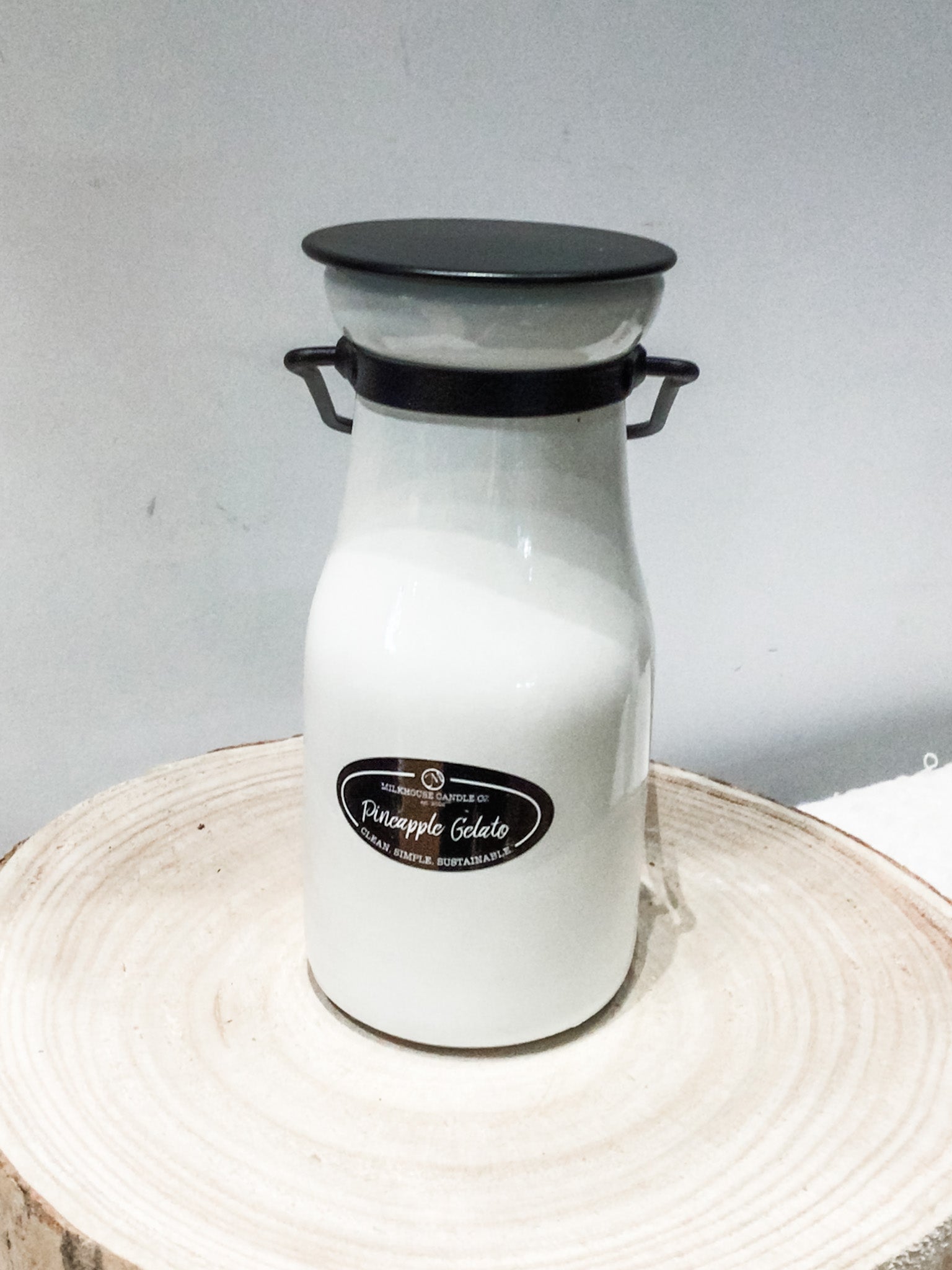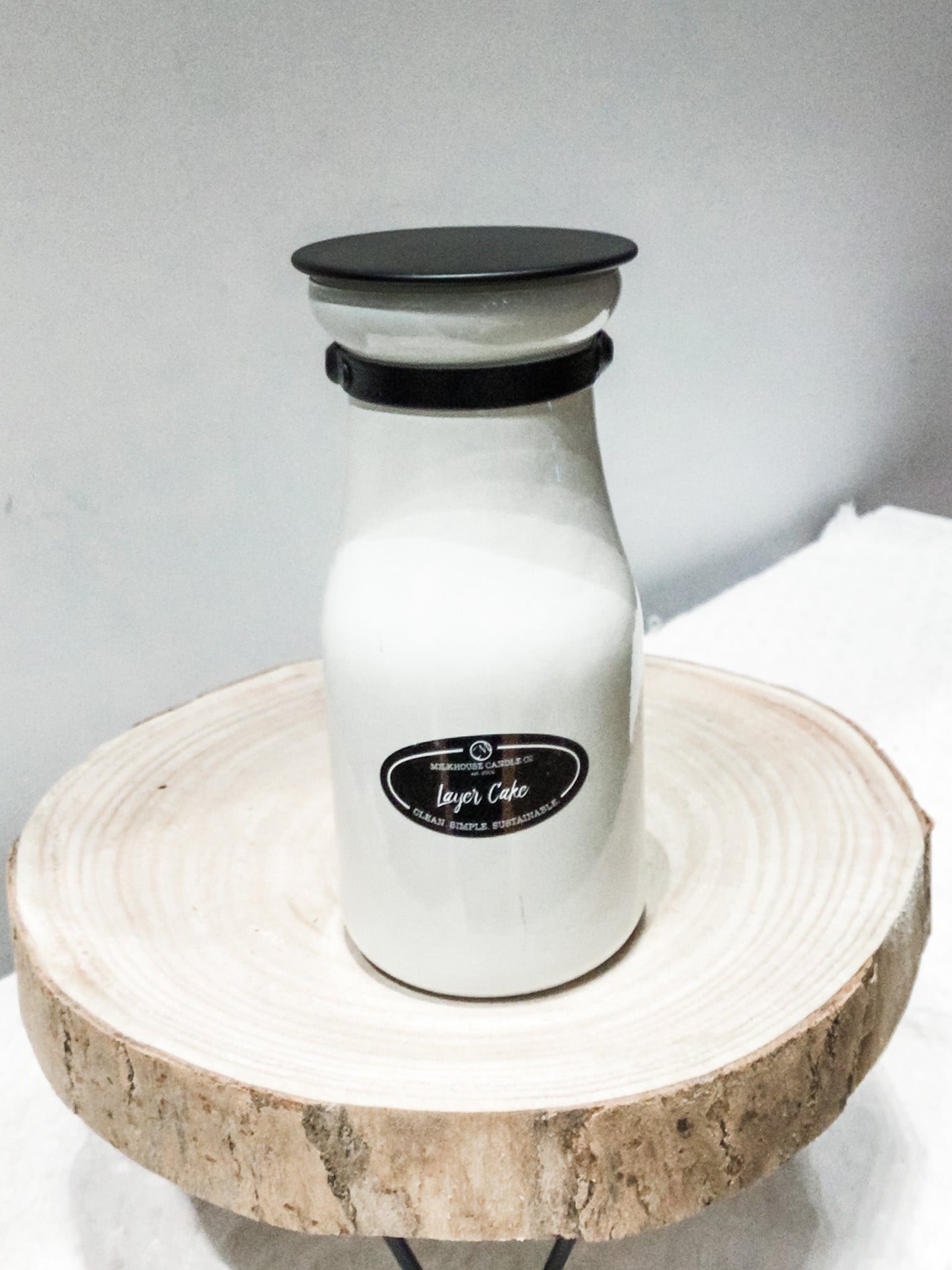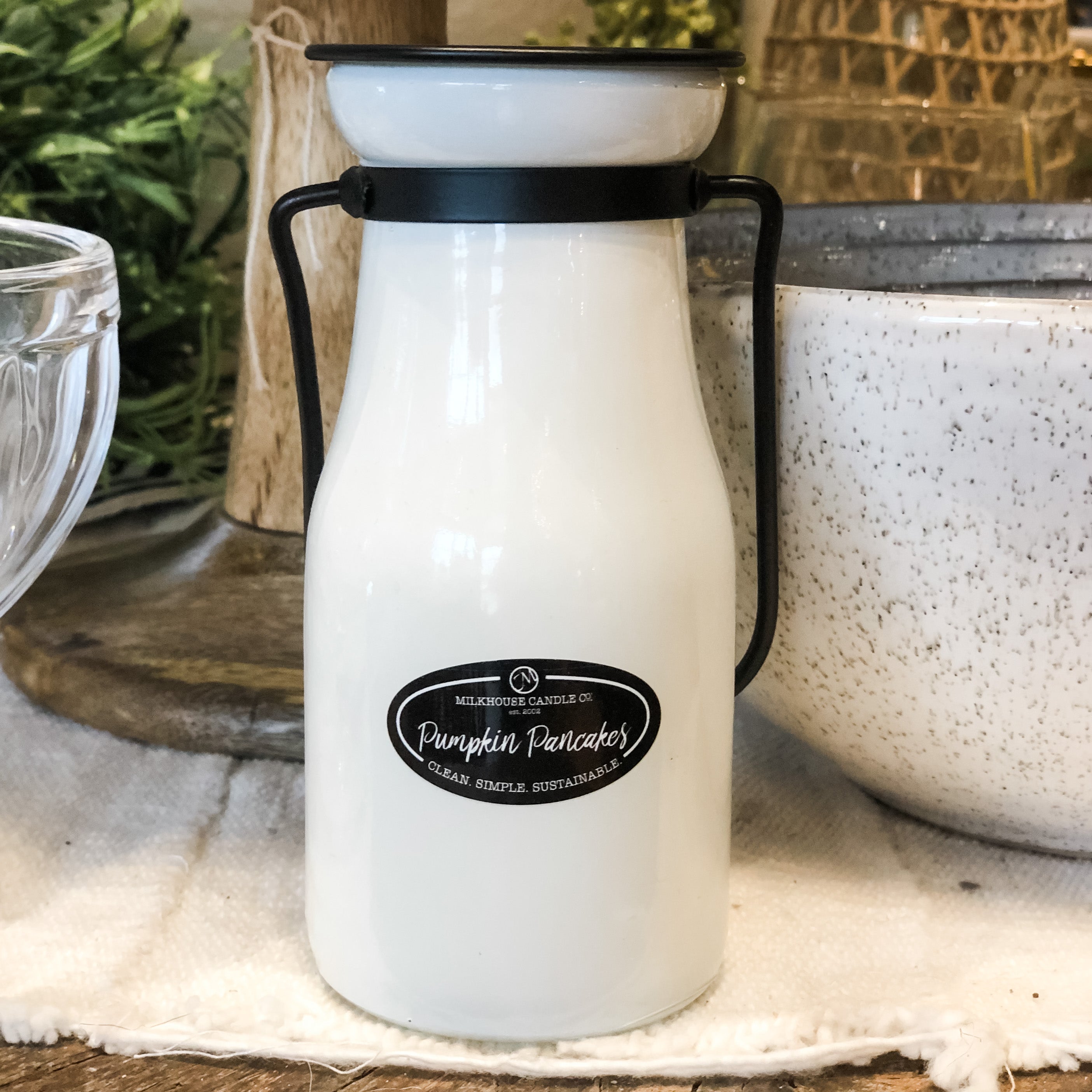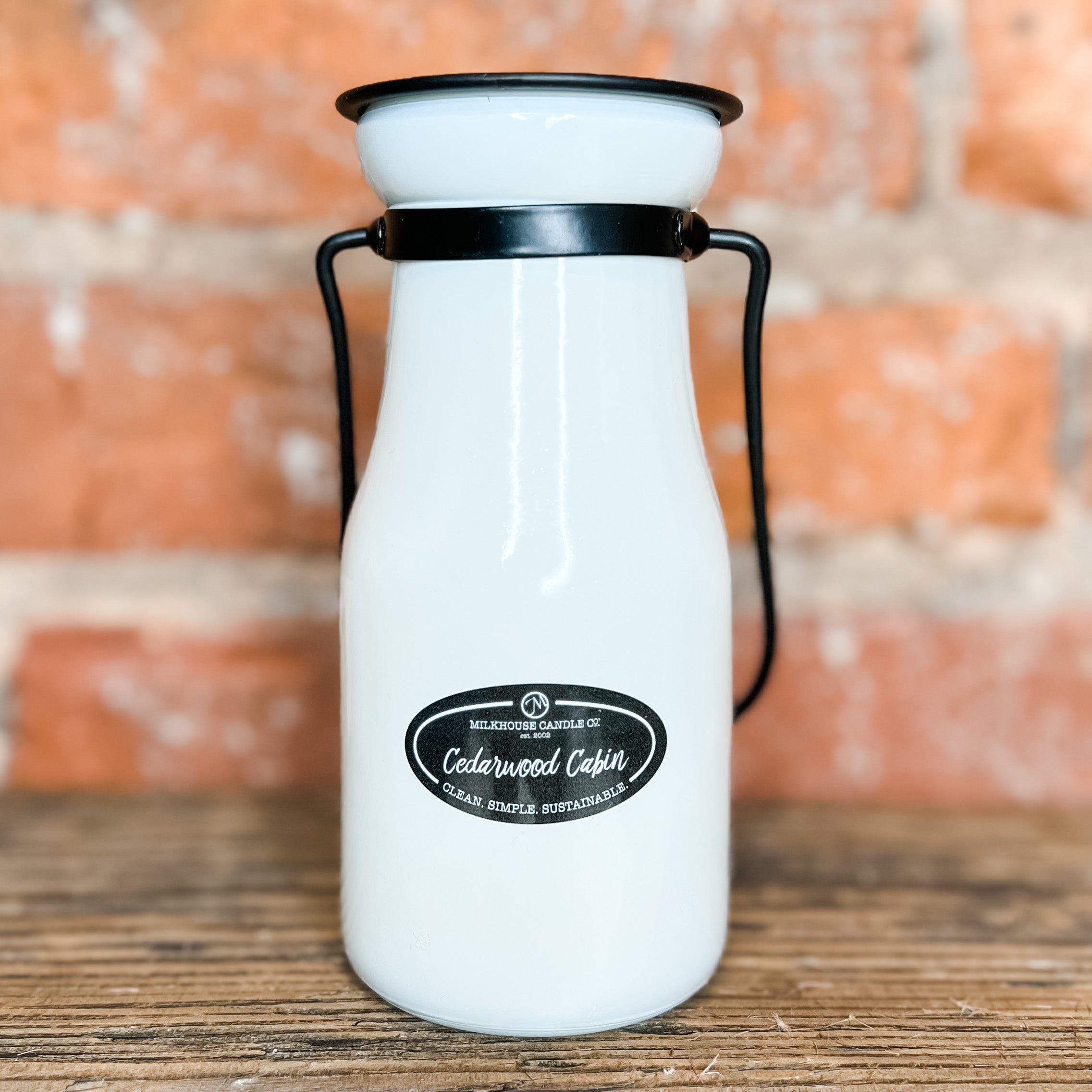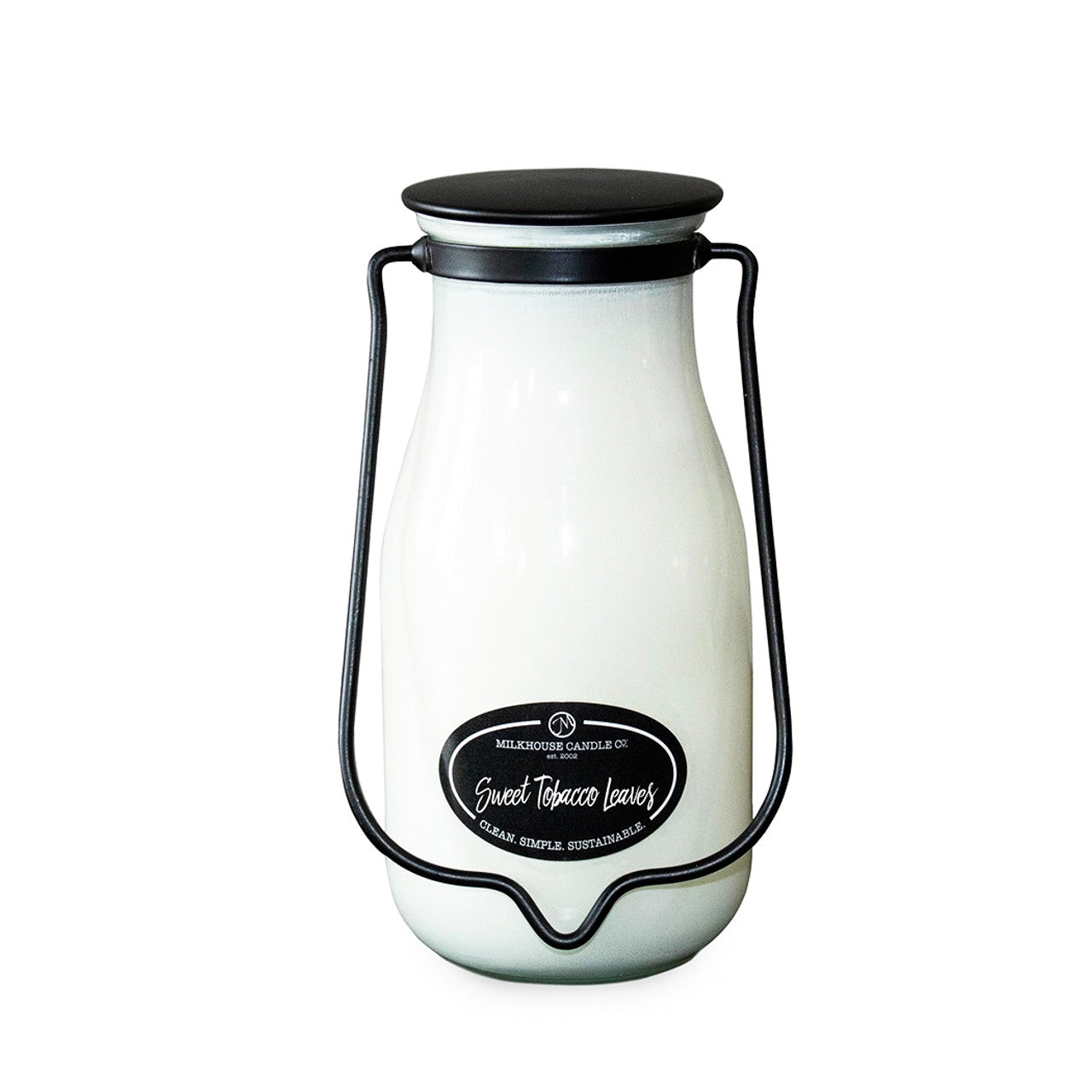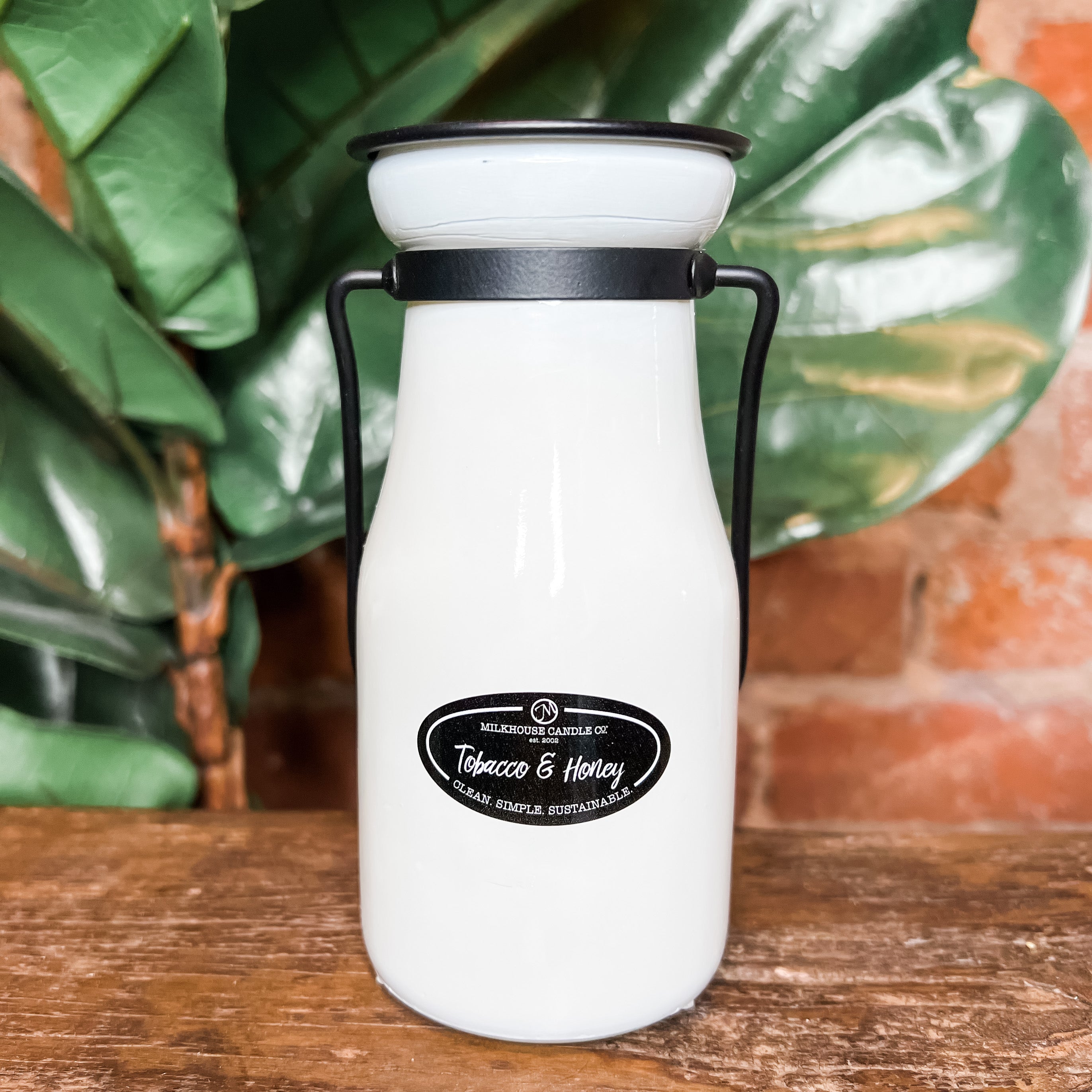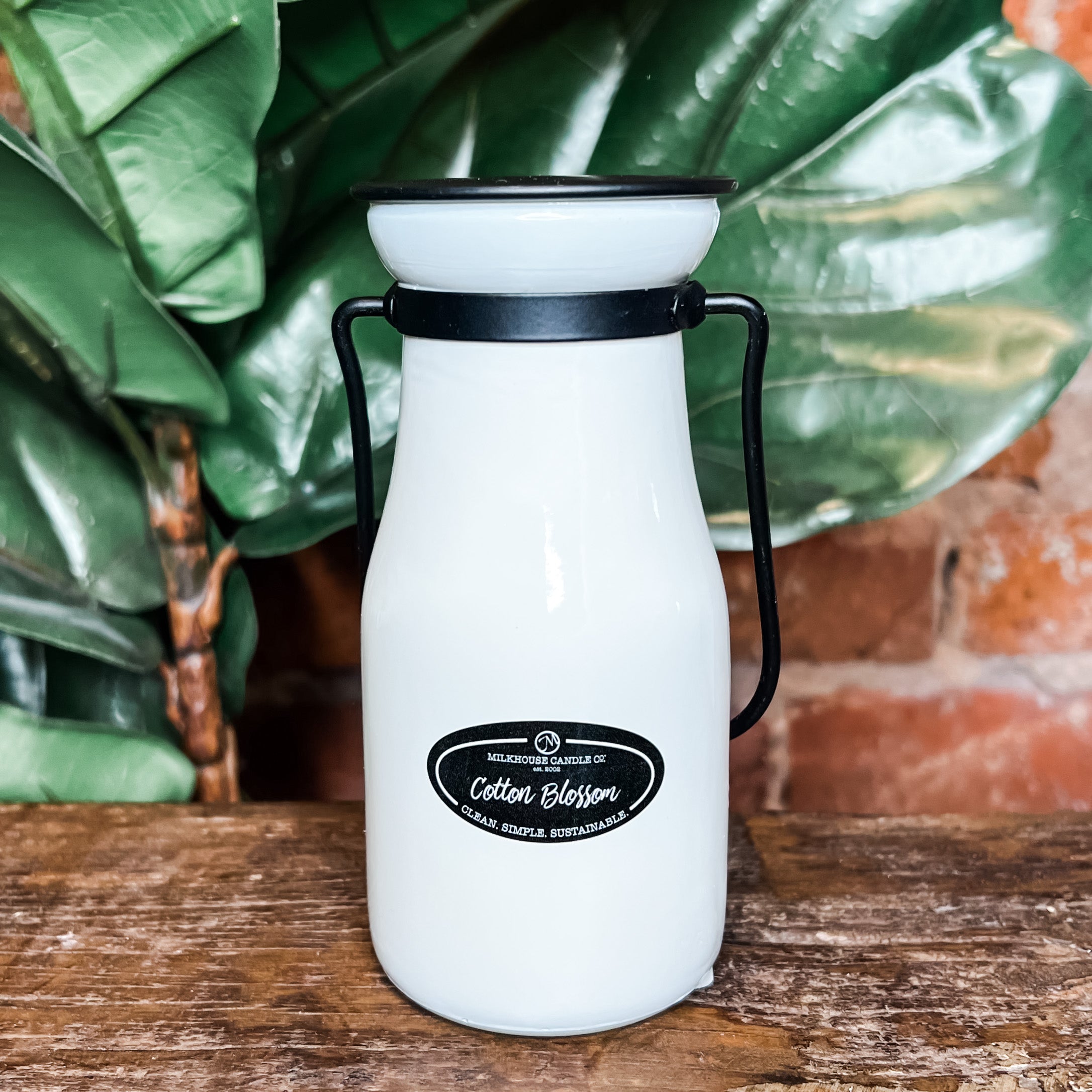 Milkhouse Black Milk Bottle 8oz
50 hours of burn time
Made in the USA 
Soy wax infused with beeswax - 100% paraffin-free
The 8 ounce Milkbottle is our most popular candle style. The Milkbottle Candle looks and smells fantastic while burning. This unique jar style is great for reuse ideas once the candle is gone!
Welcome Home: Warm hearth fires and fresh baked goodies from the oven. Sweet, spicy, fruity, and delicious.
Brown Butter Pumpkin: Rich pumpkin puree blended with browned butter, toasted nutmeg, and cinnamon. Then swirled with sweet vanilla cream and brown sugar.
Pumpkin Pancakes: Mouth-watering, fresh-off-the-griddle sweet pumpkin pancakes, smothered in maple syrup and toasted pecans then topped with a swirl of whipped cream and a sprinkle of spice.
Eucalyptus Lavender: A refreshing blend of lavender and the exotic spice notes of eucalyptus.
Layer Cake: Scrumptious layers of vanilla bean cake swirled with smooth vanilla buttercream frosting wrapped in the pure sweetness of sugarcane and a hint of aromatic spice. It is a vanilla lover's dream come true.
Pineapple Gelato: Fresh island pineapple accented with sweet coconut and vanilla bean.
Salted Pretzel: A freshly baked golden brown Bavarian pretzel drips with warm, salted butter, soft nuances of cane sugar, and a generous sprinkling of course sea salt.
Tiki Beach Flower:Blue-green waves mingle with tropical fruits of melon, pineapple, starfruit, and juicy red berries amid breezy island florals.
Barn Dance: A masculine tribute to the rural life. Deep notes of rich cologne and pipe tobacco.
Limoncello: A lively blend of fresh citrus, juicy melon, cane sugar, and a hint of lemon zest.
Frosted Oak & Amber: Intriguing notes of earthy patchouli, crisp vetiver leaves, and resinous woods blend with sweet accents of freshly picked apple and creamy caramel.
Mulled Cider: Hot apple cider steeped in the traditional mulling spices of cinnamon, allspice, clove, and orange zest.
Nana's Cookies: Homemade soft sugar cookies infused with warm vanilla accented with velvety buttercream and topped with sparkling colorful sugar and a pinch of Grandma's love.
Sweet Tobacco Leaves: Tobacco leaves accented with notes of cognac, amber, and sweet peach
Cedarwood Cabin: Sensual elements of dark resins and balsamic woods intermingle with gently smoked oud, leafy patchouli, spiced tonka, and glowing embers.
Oatmeal, Milk, & Honey: Oatmeal cookies dipped in whole milk and drizzled with sweet honey. Subtle cherry notes complete this delicious treat.
Cotton Blossom: Warm floral breezes swirl through fresh notes of cotton embellished with balancing hints of lush sea grass, dewy violet, soft apple, and powdery musk.
Dancing in the Rain: A summer rain on orange blossoms, summer orchids, and wind-swept grass.
Saltwater Mist: Airy citrus notes dance and sway with grassy greens, aquatic florals and salty sea breezes atop ocean waves, sheer musk and blonde woods.
Tobacco & Honey: Golden ribbons of warm honey drizzled over aromatic sweet dried tobacco, rich teakwood, and brushed cashmere with a hint of romantic amber and soft sandalwood.
Summer Storm: Like an unexpected storm…dewy greens, moist earth and cool breezes are awash with aromatic herbals calmed with rain-soaked woods and hints of coconut water.Like an unexpected storm…dewy greens, moist earth and cool breezes are awash with aromatic herbals calmed with rain-soaked woods and hints of coconut water.
Milkhouse Black Milk Bottle 8oz